Amaze your guests, family, or yourself with my simple Artichokes and Lemon Chicken recipe. This gourmet recipe is hearty, juicy, and so lemony and cooks in under an hour. Artichokes and Lemon Chicken is perfect savory dish for any occasion.
Use my link when you sign up for Shipt and get free Publix groceries! https://www.shipt.com/groceries/?r=dc6a
Artichokes and Lemon Chicken Recipe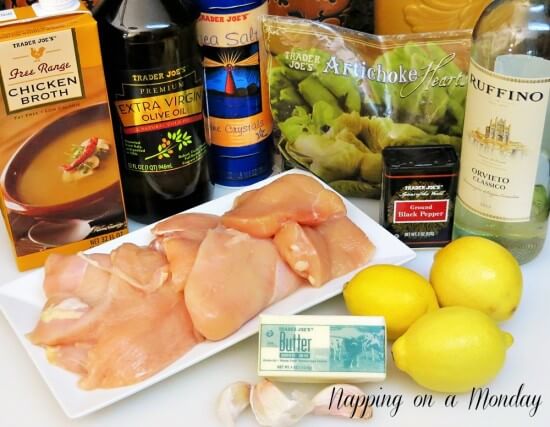 To prepare the chicken breast, trim off all visible fat. I like using Simple Truth due to the lack of trimming needed. Place the chicken breast flat on a cutting board and slice horizontally to make two thin cutlets. Repeat to the second and third chicken breast. You should have a total of 6 chicken breasts. Lightly sprinkle each side with salt and pepper.

Heat a large skillet over medium-high heat. Then add three tablespoons of olive oil . Cook the chicken breasts done on each side for 3-5 minutes or until golden brown.

Add the wine and cook for one minute. Then add the garlic, artichoke hearts and chicken broth, bring to a simmer, cover and let simmer for 7 minutes over medium heat.

Uncover and add the lemon juice and butter. Remove from the heat, stir to work in the butter.

Serve with additional lemon wedges for garnish and poultry herbs.
This is a very light sauce that's actually more like a juice. My favorite way to serve it is with buttered noodles, but white rice is good too. When I serve it with noodles, I remove the chicken from the pan and toss the noodles right in the sauce. A sprinkle of Parmesan Cheese on top makes it perfect!
This is three large chicken breasts and 6 thin cutlets, so this serves 3-6 depending on the appetite.
The cook times depends on the sides you serve. Easy cook grain sides should not add more than 15 minutes to the instructions. The cook time reflects added sides.
This Artichokes and Lemon Chicken Recipe can include more artichokes if you're interested in getting your daily servings of vegetables. Adding more artichokes will not affect the flavor.