Chai spice and vanilla smoothie recipe, because why not? The Teavana tea infused smoothie shouldn't compare to the average green tea smoothie or berry smoothie. This formula gives much more goodness courtesy of Sarani of Cocoawind authentic, homemade chai spice recipe. Accompanying with the rich blends of honey-vanilla from the honeybush vanilla herbal tea. The honeybush vanilla herbal tea is perfect and relaxing separate. The vanilla smoothie recipe is my upgrade. Sometimes, I prefer a thick, chill drink opposed to a hot tea that will sit to cool. You can make the recipe your own and substitute the ingredients with cow milk. Add Belgian Rock Sugar for a sweeter taste, or for the health-conscious incorporate a little Greek yogurt. The texture may change a bit, but you'll notice a very similar glorious taste!
Sign up for Teavana's insider email and receive $10 off your $30 or more order.
Unsubscribe any time.
Chai Spice and Vanilla Smoothie Recipe

Photographs used in this publication are property of Style and Living Profile. Do not republish without permission and credit.

This work is licensed under a Creative Commons Attribution 4.0 International License.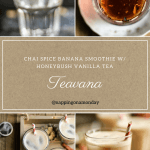 Chai Spice and Vanilla Smoothie Recipe
Boil 1/2 cup of water and take it off the heat. Add 1 teaspoon of Teavana Honeybush Vanilla Tea. Steep for 2 or 3 minutes for a stronger brew. Let it cool down.

Add the cooled down brewed tea, chai spice mix, cold almond milk, chopped up frozen banana & handful of ice to blender. Blend until everything comes together. Serve chilled.