If you're a sucker for creamy chicken salad this is your food porn of the day. However, this isn't the first idea of chicken salad, ya know the kind you find at a sandwich deli, but it's indeed an easy chicken salad recipe. Literally, it's chicken, salad, and the bonus is pasta! Regrettably I'm a pasta fanatic and the more sauce, the better the dish. However, this pasta recipe has a twist. It's a lean alternative. I adore this comfortable filler since it includes fresh and juicy and fresh foods such as lettuce and tomatoes. It's perfect for a starter, snack, or dinner! Imagine the Caesar Chicken Pasta Salad as an afternoon snack on the patio during a warm, Spring day. Perfect moment! Also, the Caesar Chicken Pasta Salad is stuffing so one is plenty (if you intend to scoop like 10 spoons in the bowl).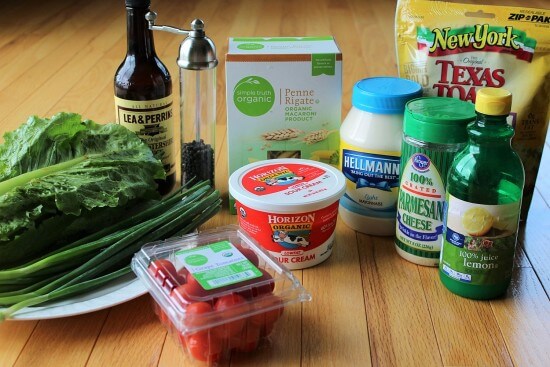 Easy Chicken Salad Recipe … Caesar and Pasta …
1 pound of penne pasta should be cooked until al dente and rinsed with cool water before beginning the yummy sauce.
About 6 large leaves of Romaine lettuce should be thinly sliced.
Using a small bowl, mix together all ingredients starting with the mayonnaise through the Worcestershire sauce.

Toss half of the dressing with the pasta and allow to cool in the fridge for 30 minutes.

Mix in remaining ingredients including the remaining dressing and serve.