Summertime is coming to an end, back to school fever is dwindling, and now it's time to care for yourself. Wind  Wine down with the refreshing raspberry wine milkshake recipe. The red wine infused chiller is a perfect Summer and Autumn border treat. Relax and watch the Fall debut as you sip on the ever-so-desired raspberry wine milkshake. See to it upon diving into the sweet surprise, to savor the Club W (Winc) 2014 Alchymist Noir™ Red Blend. The wine is two years vintage with a bold flavor though smooth. Dark cherries, ripe strawberries, blackberries, raspberries, and well-churned ice cream is the makings of a fantastic and luscious raspberry wine milkshake recipe. Join Club W (Winc) & get the first bottle of wine on the house. Cheers!
Follow this treat (or before – I usually start with dessert) with a nice dinner. I just joined Hamptons Lane to get artisan foods and kitchen products delivered to me monthly. It's only $47, and you can skip a month whenever you want. If you join with my link, you will get $10 off your first box. Enjoy!
Update: Club W is now Winc.
Refreshing Raspberry Wine Milkshake Recipe
Photography is property of Style and Living Profile. Do not share without credit or reproduce without permission.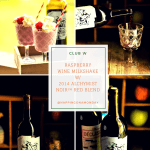 Refreshing Raspberry Wine Milkshake Recipe
Blitz the ice cream in a blender along with the raspberries.

Pour in the wine & vodka and give it a couple of pulses till everything comes together.

Pour into glasses. Top with whipped cream, garnish with a raspberry and enjoy!