For an easy, healthy snack, try this blueberry smoothie recipe with oats! Blueberries are rich in antioxidants like vitamin A, vitamin E, vitamin C, copper, zinc, and iron. The rolled oats are perfect for lowering cholesterol. The blueberry smoothie recipe is great for any time of the day. However, I recommend this healthy drink for breakfast. Replace your coffee and whole foods with this blueberry smoothie recipe and notice a surge of energy and decrease in hunger. Blueberry season is almost over so try this recipe while it tastes best!
Blueberry Smoothie Recipe & 411
Photographs used in this publication are property of Style and Living Profile. Do not republish without permission and credit.

This work is licensed under a Creative Commons Attribution 4.0 International License.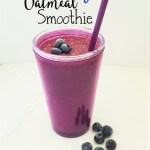 Yummy Blueberry Smoothie Recipe
Mix all ingredients together (Ninja blenders work best) and serve!