I just got the memo that Denver is king of the morning choice the breakfast omelet, crowning the dish name the Denver Omelet. The story has it The Denver Omelet began as a sandwich with all the same ingredients as the omelet: diced ham, cheese, bell pepper, and onions and it had popularity during its stint but eventually was replaced. I'm not sure when this Mile High City famed omelet was introduced, but I must confess the notoriety of the sandwich is reflective of the omelet. The Denver Omelet reigns the most popular egg soufflé although there are some variations like no cheese to cut calories or added bacon. I mean how could you deny bacon, it should be permanent on the list of ingredients. In observance of Pi Day, I have a Denver Omelet Pie on flatbread. Can you say wake up to bake it up!
Denver Omelet Breakfast Pizzas Ingredients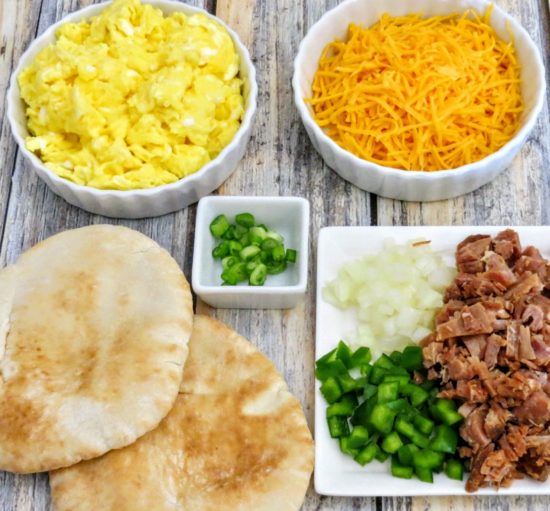 Photography is property of Style and Living Profile.
Do not share without credit or reproduce without permission.
Preheat the oven to 400 degrees F. Line a baking sheet with foil and spray with non-stick cooking spray.

Sprinkle a little cheddar cheese on the bottom of each pita around. Spread the scrambled eggs on top of the cheese. Spread the ham on top of the eggs

Sprinkle the green pepper and onions on top of the ham. Top with the remaining cheddar cheese, using more if you like it extra cheesy! Place the pizzas on the baking sheet and bake at 400 until the cheese is thoroughly melted and everything is heated through, about 9-11 minutes. Sprinkle with the green onions before serving.
Pita rounds are a great substitute for pizza crust when you're in a hurry. They're the perfect thickness, they crisp up nicely on the bottom, and are usually low in calories, depending on the brand.
I don't sauté the onion and green pepper first, which leaves a nice little crunch and freshness to the finished pizza. That said, if you like your veggies completely cooked, you could always sauté them for a few minutes first.