I love apartment decorating! It's reviving adding fun new looks to my home, and this apartment decorating idea log for winter is fun and easy to add to your small home. An apartment can be challenging to decorate, many times you want to avoid hanging a lot of items on the wall, and you often aren't allowed to paint the walls. You can quickly adapt to these simple ideas and create a beautiful winter themed look in your home.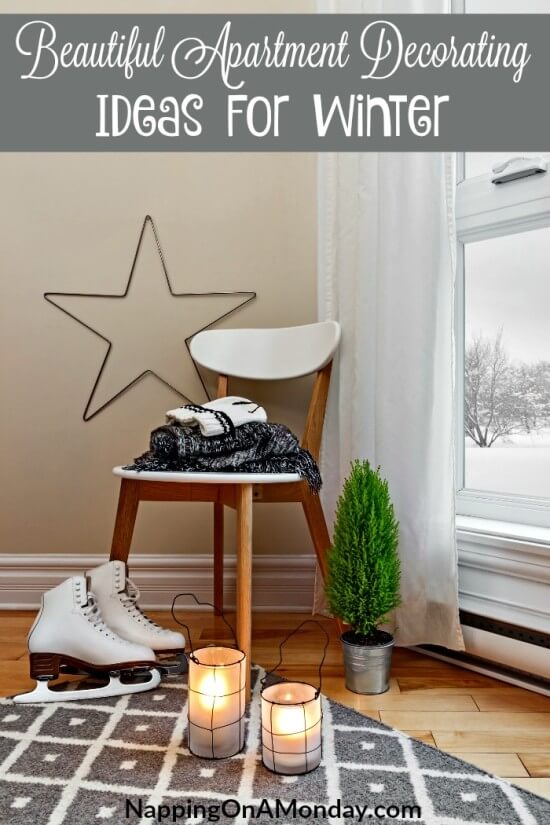 7 Beautiful Apartment Decorating Ideas For Winter
Utilize fresh winter greenery.  Holly leaves, cedar, and pine aren't just for the holiday season.  They work beautifully in apartment decorating throughout the season.  Change out the red ribbons from Christmas and add in silver or gold ribbons on things like stair railings or mantles with some beautiful pieces of fresh winter greenery.
Add more throws and pillows to your furniture.  A thick chenille or sherpa throw on your couch or chair may be overkill in the warm summer months, but winter is the perfect time to bring these out to display.  Not only will a rich winter color bring a pop of beauty to your home, they are functional for when you are chilly but don't want to crank up the heat.
Bring in richer jewel tones.  Spring and Summer often have brighter colors, but winter is the ideal time to bring in those rich jewel tones.  Think about colors like maroon, navy blue, hunter green and rich golds.  This can be in throw pillows, window treatments, or even picture frames changed out on your family photos.  This is an easy way to change out your apartment decorating without a lot of effort.
Update your tablescape.  Winter apartment decorating is easy when you create a beautiful tablescape.  Even in a limited space, you can grab great pieces to add to your table inexpensively.  Accent your basic white plates with things like gold serving platters, napkin rings, and rich jewel tone napkins.
Embrace the snow theme.  With limited space, you can really take advantage of themes to build a great winter look in your apartment decorating ideas.  Snow is a huge theme throughout the winter, and you can definitely add that to your home with simple things like silver, glitter decor items, snowflake patterns and even something like setting out vintage ice skates at your entryway with a sign that says, "let it snow".
Put focus on the fireplace mantle.  Since your fireplace will be used more in the winter months, it should be treated as a focal point.  Even if you are apartment living, you may have a wonderful gas fireplace as a feature. If you have a hearth and mantle area to decorate, don't hesitate to line with beautiful greenery, ribbons and, of course your favorite family images.
Create a mirror image.  One of the best ways to make space open up is to use a mirror.  A great apartment decorating idea for winter is when you use a larger mirror on one wall to help make that room look and feel larger.  This is especially wonderful when you have beautiful bright pieces to reflect in the mirror.
These great apartment decorating ideas for winter are going to help you to make the most of your limited space.  An apartment can feel bright, open and inviting when you use some fun ways to add a hint of personality and beauty with these tips.
Related articles across the web