Valentine's Day Outfit Ideas by Eileen S
Red is a statement. Often associated with passion as well as danger, red is a force to be reckoned with. Here are nine ways to wear fashion's favorite attention-getter – even more arresting if paired with a neutral palette. Don your red, and get ready to own the room.
Valentine's Day Outfit Ideas
GET MISCHIEVOUS WITH YOUR MANI PEDI
Something about painting your nails red looks like you're game to paint the town next. A bit riotous, always sexy, a striking red polish is the first step to a grand plan.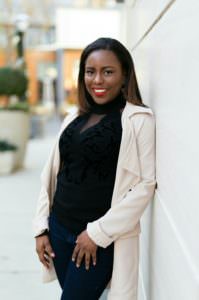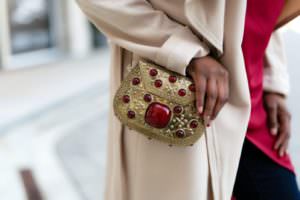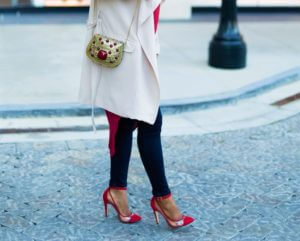 MAKE 'EM WAIT
Red lingerie is too tempting. Don't let it peek out – it's your secret. Enjoy it all to yourself, be it demure satin or a racier lace, until you're ready to share.
CAPTIVATE THE CROWD
Slip into a curve-hugging red sheath and be the knockout of the party. The color red radiates energy, and with that much on, you may well alter the festivity's gravitational pull.
Get the velvet illusion top pictured above here.
HARDLY AN ACCESSORY
The red belt is a bit of an oxymoron. And therein lies its appeal. Belts are a reserved bunch, content to accessorize a dashing top or simply hold up a pair of pants. But a red belt is no second fiddle, instead demanding attention and defining an outfit.
Get the gold & red clutch pictured above here.
MAKE YOUR KISSER COME-HITHER
A staple of ´40s glamour, nothing says "Kiss Me" more than red lips. From royalty to pin-ups, any woman can wear red lipstick and know plenty will be clamoring to plant one on her fabulous pout.
FIERCE DOESN'T DO FLATS
Forever untamed, red heels hint that the wearer is a little bit naughty. Be the instigator in red stilettos, more mysterious in red peep toes and rule the world in red platforms.
SPIRITED, NO MATTER WHAT THE OCCASION
Bold and collegiate, a red scarf always seems poised to take on the day, whether treasure hunting in your city's flea markets or tailgating at your alma mater's homecoming.
CAPTIVATING TOPPER
Whatever your millinery preference – fedora or floppy, cloche or cowboy – a red hat sets the mood. Choose to be a sophisticated siren, shy scholar, or saucy free spirit and let your red hat do all the talking.
WRAPPED – AND READY TO WOW
A wool coat is an investment. Play it safe with gray or camel. Or go all in with red. Because a red silhouette against a bleak winter landscape makes the planet a much more interesting place.
Luscious lips or adventurous scarf. Fetching fedora or headstrong heels. Wear red now to guarantee a tantalizing tale later!
How do you wear red?