Remember when matching every piece of furniture, fabrics, and colors was all the rage? Well, the days of matching patterns, fabrics, and furniture sets are long forgotten. Stepping into a suited home felt more like walking onto the set of The Stepford Wives. The full-on beige leather upholstery and microfiber sectional collections are retired. Just in time for an eclectic mix of madness – beautiful mixed furniture madness that is…
Time Worn, Layered, & Textured Mixed Furniture
Focusing on the eccentricity of custom and ready-made pieces, we have created a mood board for a Moroccan-inspired, industrial living space that will leave you inspired and up all night planning your dream room.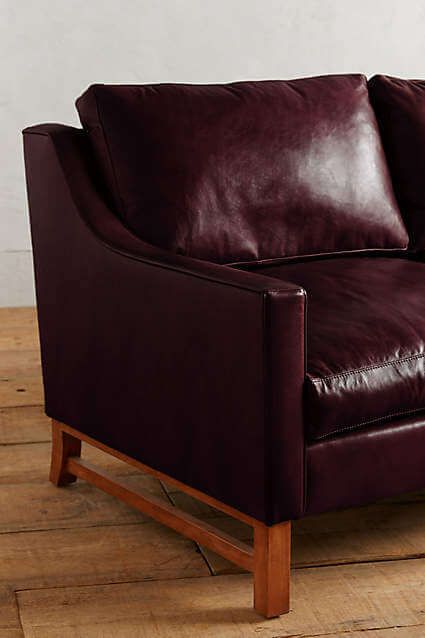 Anthropologie's Dorada Leather Sofa ($3,998)
You can lounge for hours on this deep-back and timeworn leather sofa. Derived from a modern Danish shape, its oxblood upholstery is filled with down and its wood frame finished with walnut. – via Anthropologie
Anthropologie's Shag Puff Pillow ($88)
This fun and furry textured throw pillow brings a wild punch to the space with its aggressive demeanor, but cozy underbelly. It adds an unexpected but friendly twist to an otherwise very structured setting. – via Anthropologie 
Anthropologie's Moroccan Wedding Throw ($128)
Layered with funk and fringe, cozy up to the opposing side of this oversized shagadelic wool throw. Projecting a sincerely modest pop of sequins, you will softly glisten whilst slipping into slumber. – via Anthropologie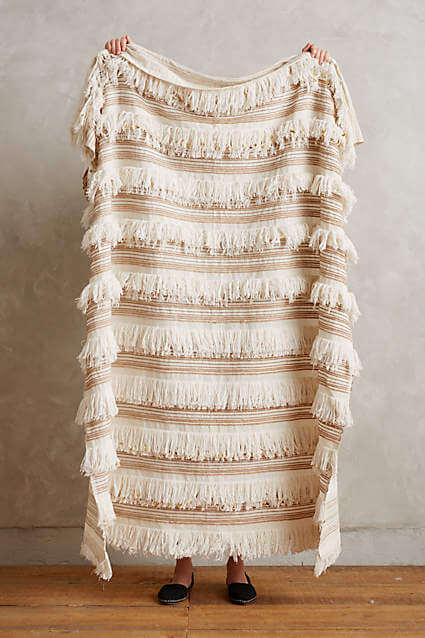 Joybird's Powers Ceiling Lamp ($550)
Reminiscent of a birdcage, this vintage-inspired industrial-style metal light fixture will suspend your imagination while sitting beneath its thralls. Tarnished metal with an urban edge describes this room topper to a T. – via Joybird
Design Mix Furniture's Vintage Iron Ship Chain Coffee Table ($1,800)
The room's heart and anchor, this iron ship chain coffee table sits strong in the living space, exuding a masculine presence that demands attention from its each and every guest. Showcasing a glass top that is coffee table book ready, you will never yearn for another.
Wayfair's EcoChic Lifestyles Swell Reclaimed Wood Dining Arm Chair ($409.99)
Named the Swell Chair for a reason, as it is inspired by the contour of the sea on a tranquil day. Eclectic and joyful, this strong-lined chair will press guests to pause and appreciate its colorful palette and distinct design. Each piece is handmade from the finest tropical fishing boat teak. As an added incentive, this chair is made from 100% recycled materials. – via Wayfair
Calypso St. Barth's Moroccan Wedding Pouf ($475)
We couldn't have named it better ourselves. Anyone and everyone will want to fall onto this comfy handcrafted ottoman. Continuing our "pop of sequin and fringe" run, this restful pouf is adorned with both. – via Calypso St. Barth
Design Mix Furniture's Nigerian Beaded Chief Chair ($2,400)
Colorful and full of culture, this glass-beaded Nigerian art chair will stand the test of time and imply good conversation through its use of cultural symbols and configurations. – via Design Mix Furniture