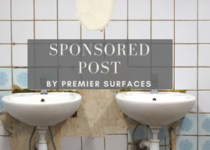 If you have plans to update your home, the top priority should be the places of sanctuary. One of those sacred rooms would include the master bathroom. Although people commonly don't visit that piece of your home, this private quarter deserves the most TLC. I for one spend a lot of time in my bathroom – grooming, changing and glamorizing in front my gorgeous vanity. I know my regimen matches countless people's routine particularly the lady of the house. Therefore I wanted to share some quick and easy tips on how to help update your master bathroom in the event a change is considered. Here are easy ways to update your master bathroom.
Image: Lowe's
Easy Ways to Update Your Master Bathroom
Replace Hardware
Is it just me, or do others loathe outdated hardware? It's never appealing to see tarnishing finishes. Rusted nooks and chipped varnishes can deem a home unkept. Why not start here and give the home a simple, elegant touch. Aforementioned is one of the several easy ways to update your master bathroom. Replacing entire doors and cabinets can be expensive, so a good deep cleaning on the surface and replacing hardware goes a long way and doesn't break the bank. Think of what style suits you and your chamber needs. Do you want vintage or a more modern look? Do you need lock and key security? Consider this before committing to a style. Take inventory and replace all your old knobs with new handles. Feel free to get creative and mix and match after all mixed furniture is all the craze nowadays. All those pulls and handles are pretty affordable and only take a few minutes to install. Once everything is to your satisfaction, you'll see such a transformation that you never thought was possible just by doing a small design.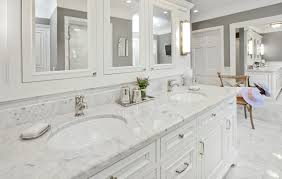 Image: Premier Surfaces
Add New Counters
Another thing that doesn't have to break the bank but makes a big transformation in your master bathroom are the countertops. A great place to find quality and gorgeous countertops are from Premier Surfaces. Investing in gorgeous countertops such as marble, limestone or granite adds character to your bathroom and upgrades the value of your home. It sounds like a win win situation, right? Premier Surfaces believes their customers deserve better than unreliable subcontractors. The team is committed and dedicated to providing fantastic and top notch countertops of your choice. Their installers are full-time, trained and certified employees. They offer showrooms in Alpharetta, GA, Birmingham, AL, Chattanooga, TN, and Huntsville, AL.
Repaint Your Walls
Nothing is more inviting than a gorgeous color scheme throughout your master bathroom. Don't go too bright of course so think of fresh blues, light grays or white for a soothing feel to your master bathroom. You should want it to look and feel as if you entered a solitary spa.

Image: Cherished Bliss
Reframe a Mirror
You don't necessarily have to go out and purchase an entirely new mirror. Why not try reframing your old mirror for less money? There are so many helpful tutorials online to help you get started. Just take your existing mirror then add the perfect frame to it and hang it up! Super simple it can be done during an afternoon.
Add New Accessories
Think of a theme for your master bathroom. Do you want something whimsical? Add a few of your favorite seashells or personally cherished photographs around the tub or vanity. These cute new touches add just the right amount of fun. Some little details can even be a new basket to store your folded towels, a shower curtain or wall art that your children created for other ideas.
Whatever your thoughts, try making updating your master bathroom a joyful moment. By doing so, you're making the project more valuable, pleasurable, and rewarding to do! Whatever your intention, go for it! The sky's the limit for creating your master bathroom your retreat. Try these highly recommended easy ways to update your master bathroom.
Disclosure: This post is courtesy of a paid sponsor that has been thoroughly researched. However, I recommend performing your own due diligence for any and all products/services. 

This work is licensed under a Creative Commons Attribution 4.0 International License.