Recently, I noticed the butcher block countertop trend emerge, and it's spreading like wildfire. The once uncommon style was merely related to a craftsman style home but is now the catalyst for change in contemporary homes. The countertop's appearance is accessible as a solid exotic wood or domestic solid wood. Although, it is commonly seen as a North American Walnut or Hard Maple due to the wood's durability, color richness, and consistency. The aesthetic is natural and brings plenty of warmth to a galley kitchen or even an open kitchen. While faultfinders may argue that the surface is high maintenance, the surface is here to stay due to the versatility, absent bacterial growth, and the fact that it's effortlessly refurbished with sanding.
Butcher Block Countertop compared to Quartz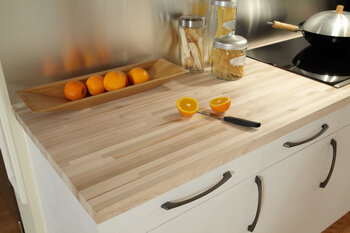 Quartz countertop is a man-made material but is not to be confused as synthetic, it is partially natural (97% natural) prepared by collaborating quartz sand into a resin aggregate. The low maintenance surface is available in a variety of grains and colors but is not always easy on the eye. While the countertop is a uniformed busy, it is also stain and acid resistant, easy to clean with soapy water, and impact resistant. Each of these properties are beneficial, reasoning quartz as trendy and timeless. Which of the two countertops do you prefer and deem in or out?
Indie Foodstuffs for the Cabinet & Countertop

This work is licensed under a Creative Commons Attribution 4.0 International License.