Ready to get your hands dirty? In this instance, manual labor isn't involved. However, a bucket, bib, and double jaw and pick tools are required. If you guessed lobster chow down as the activity, you're correct! Every Tuesday Hammocks Trading Company hosts Lobster Night, and it's undoubtedly the best lobster in Atlanta. Here is where you can get the best lobster in town and mentally evade into a seashore atmosphere.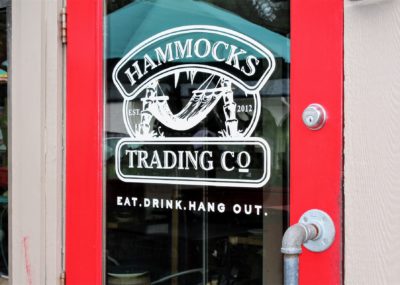 The Best Lobster in Atlanta
Hammocks Trading Company was established in the year 2012 and since has imprinted the best seafood in Metro Atlanta as this joint specializes in Oysters, Shrimp, Steaks, & Craft Cocktails. For over a year they've offered lobster night where 1 lb whole lobster plus two sides are merely $21 starting at 5 P.M. It's an incredibly popular night that never disappoints restaurant goers.
As for my experience, it was my first visit. I was blindsided with what was in store. Seeing a mid-size beach shack along a busy metropolitan road was an utter shock. I was transmitted to the coastline almost instantly as the colors were coordinated according to a fun boardwalk restaurant and bar. Hammocks Trading Company decor exhibits whites, blues, with a red accent. As if the nautical decor isn't charming enough you see gracious splashes of orange, purple, and much more. If the decor doesn't get you in a bubbly, beachy mood, the smell of fresh seafood will get you. As other tables were being bused around me, l smelled aromas from an assortment of foods. The best was what laid on my plate. In front of me were creamy cheddar grits, a jalapeno muffin, and whole lobster with beautiful color.
I didn't know where to start, but the co-owner of the place (Jason) noticed my faltering and leaned me to start for the main course as I wouldn't be disappointed with it. After he showed me the best lobster opening technique, I dived in and was set adrift along this sensational seashore. The lobster was phenomenal and fresh is merely an understatement to describe its taste. I'm sure there's a beach somewhere around Sandy Springs where the chef and co-owner (William) picked this freshly caught lobster just minutes before serving it to us patrons. Following the lobster, my sides were indescribably good. I trust my Southern grandmother will approve of the creamy cheddar grits and buttery jalapeno cornbread recipe.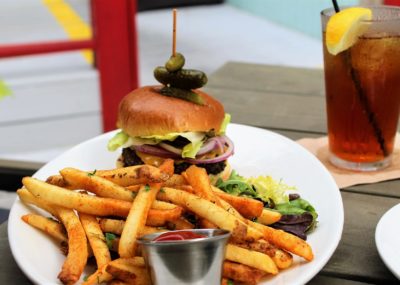 Another item that can't go unseen and untested is the 1/2 lb burger. Can you believe this place has perfected so many categories in food? If it's unbelievable just try for yourself. Hammocks Trading Company is a beloved neighborhood gem collecting many accolades and maintaining a superior rating on multiple review sites from foodies far and near. Visit one of these Tuesdays, snag you a watermelon mojito and the lobster special then kick back on the lovely deck and enjoy the experience along with the best lobster in Atlanta. Be sure to have Jason show you that impressive, bare hand lobster cracking trick.

This work is licensed under a Creative Commons Attribution 4.0 International License.
Disclosure: I joined this experience as media. Complimentary experiences allow me to broaden my knowledge without exhausting my personal budget. That said, I do not give special consideration and I do not pay favors. My responsibility and obligation to submitted tastings is simply give an honest review and spread awareness. I am not for sale and am independent of industries related to my blog. Visit organized by CulinaryLocal, a marketplace for culinary events.