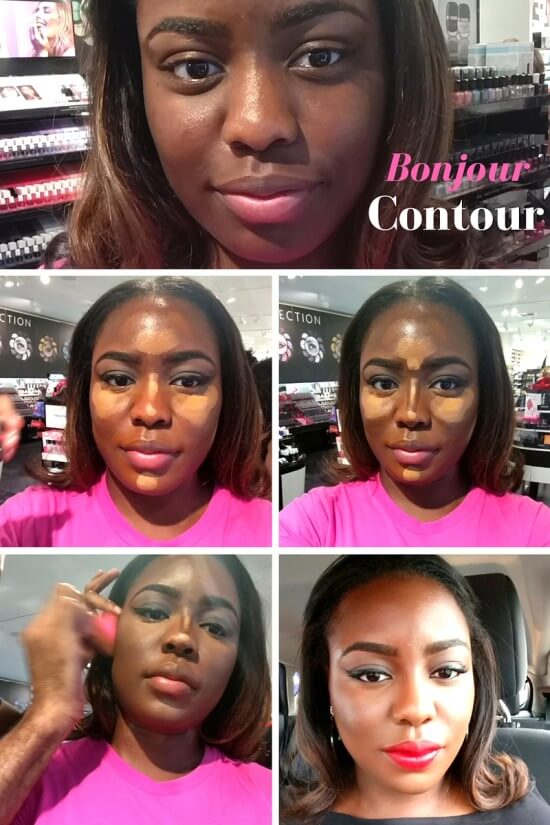 First things first, I am Sephora VIB Vogue status (Woot, woot), and I use the hell out of my complimentary makeup application (as I should). Therefore, this makeup job was not performed by me, yet it's fabulous, more fabulous than my technique. Second foremost, the makeup you see is illuminating so it may appear lighter than my natural skin tone. However, it's an even color with my body (my face is darker than most other areas). Makeup is an illusion, and you'll realize just that with my input. The products mentioned below are prestige contour makeup for dark skin women.
---

Intro
---
The highlight and contour method is a trick artists have used for many years. Recently, it was perfected thanks to the advancements in beauty. Highlight and contour became widespread years ago by the trailblazer Kim Kardashian. Although this trick is not quite new, it remains a technique that's instructed time after time because it's difficult to perfect. In my onion, the most difficult part is the color correction. It may be difficult for you to match your brightening and shading products. It's especially difficult for dark skin tones. The contour makeup for dark skin labelled as "deep" products never seem to be dark enough for rich melanin. I'm sure my dark and fine as wine ladies can relate. Merely three years ago, there was only one sculpting cream tanner than me at MAC. The cream was limited edition and sold out quick (should've been a hint to MAC). I had a MAC employee view the stock at the nearest locations to mine. I found the product (Richly Honed) out-of-state and bought the last in stock.
The discontinuation on the color remained, and only about two years ago mainstream products for dark skin tones surfaced. Now, I no longer use dark eyeshadow for sculpting (true story). The highlighting creams have rarely been an issue for me, but some illuminating powders are very ashy on my skin, and it took many photographs to realize I was off color. No one gave me guidance on my skin because no one understood my trouble, and few gurus were relatable. There are more options but the issue isn't corrected. Plain and simple, contour makeup for dark skin is hard to find.
Contour Makeup for Dark Skin Women…
I'm addressing the Godiva goddesses out there if any of this sounds familiar, the contouring makeup for dark skin I have for you today are worthwhile. If you're new to the realm of beauty and cosmetics or you're still mixing shades, consider me your fairy godmother; I bestow these glam products to you. Try it before you but it. The studio experts will allow you to sample whatever. They'll Color IQ you to match the products entirely. However, it always helps to have an idea of what you like. Here are the items in my day-to-day highlight and contour routine:
? MAKE UP FOR EVER – Step 1 Skin Equalizer Primer – COLOR Caramel Primer – For dark skin 
? MAKE UP FOR EVER Face & Body Liquid Makeup Foundation > hmm, my color is not listed online. It's no. 44
MAKE UP FOR EVER
Ultra HD Invisible Cover Stick Foundation
Anastasia Beverly Hills
Contour Cream Kit
Oily skin folks, bad news! I do not know of deep contours that are a true deep. I recommend an eyeshadow, here is a really good one.
? COVER FX Matte Setting Powder – COLOR Deep
Try chic cosmetics curated by Birchbox.
Get 10% the first order with code COCO-0308-WKTU4-YMWJ.
COCOTIQUE is a deluxe beauty box subscription service for women of color & diverse ethnicities.