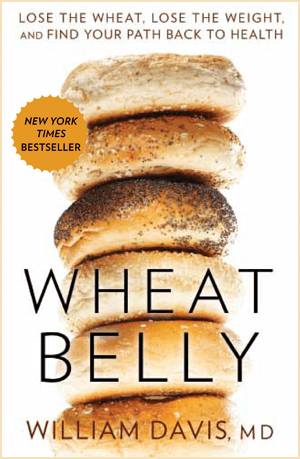 William Davis, MD opened my eyes to eliminate wheat from my diet. Beforehand, I was BIG on gluten free foods. I had other strict facets in my diet, yet I saw very little change. I was a food conscience eater, but it didn't show physically, and I became frustrated. I needed a Plan B, so Dr. Davis information was worth hearing.
I found out about William Davis, MD through a friend and everything Dr. Davis said is sensible. Apparently, too much wheat is unhealthy. I had no idea. My favorite appetizer included multi-grain bread & gosh it was filling, but I'd be hungry before my next meal therefore I'd snack. According to studies, wheat is an appetite stimulant. It is also responsible for high blood sugars occurring approximately an hour after eating. According to researchers, two slices of wheat bread can spike your blood sugar more than a Snickers bar, WOW! Once I discovered this information, wheat was not ideal for my diet.
I began the wheat free expedition. It's very much a paleo diet (with minimal consumption of red meat). I now shop for foods that are all natural, uncanned, and mostly unfrozen. I shop some packaged foods with few ingredients (rule of thumb, if you can't pronounce it don't buy it), but I try to cook from scratch. Also, I avoid dairy products (I do consume some kefir probiotic), processed oils, & refined sugars. I have eliminated carbs as much as possible for a better weight loss/management. I am not much of a drinker, so I have eliminated alcohol except wine (I need my vino periodically, besides red wine is healthy). I have a small glass of white or red wine with some dinner meals. You might wonder why I am on a diet if I have exceptions, and I'll be frank, it's virtually impossible for me to stay obedient, so my exceptions are my treats.
If you've joined the no wheat diet journey comment with your experience so I can give, you shout out in future posts! If you think the wheat free movement is absurd, comment as well, I'd like to hear everyone's opinion.
Here's my plan, no wheat, rye, barley, wheat additives, and especially no GMOs! Thus far, I notice a difference. Cheers to more protein and fiber, and fewer carbs and wheat – a complete health regain!
Recommended Shopping List
Here's a good shopping list for "wheat belly" foods courtesy of Dr. Davis. According to his instruction, foods such as flaxseed and nut meals, are best purchased and used within four weeks to minimize oxidation of the oils and/or store in the refrigerator:
| | | |
| --- | --- | --- |
| Unsweetened Almond Milk, Coconut Milk | Cheeses (keep a variety on hand) | Unsweetened Cocoa Powder & Extract – almond, vanilla, coconut |
| Ground Flaxseed & Sea Salt | Raw nuts & Nut butters – almond, peanut butter, sunflower seed butter | Oils – extra virgin olive, avocado, walnut, flaxseed |
References:
Davis, D. (2012, March 1). A Wheat Belly Shopping List. Retrieved from Wheat Belly Blog: http://www.wheatbellyblog.com/2012/03/a-wheat-belly-shopping-list/
Disclaimer: This blog post is for informational purposes only and is not a substitute for dietary advice. This is only intended to dispatch a personal experience. Please consult a qualified healthcare professional for personalized nutrition advice.

This work is licensed under a Creative Commons Attribution 4.0 International License.