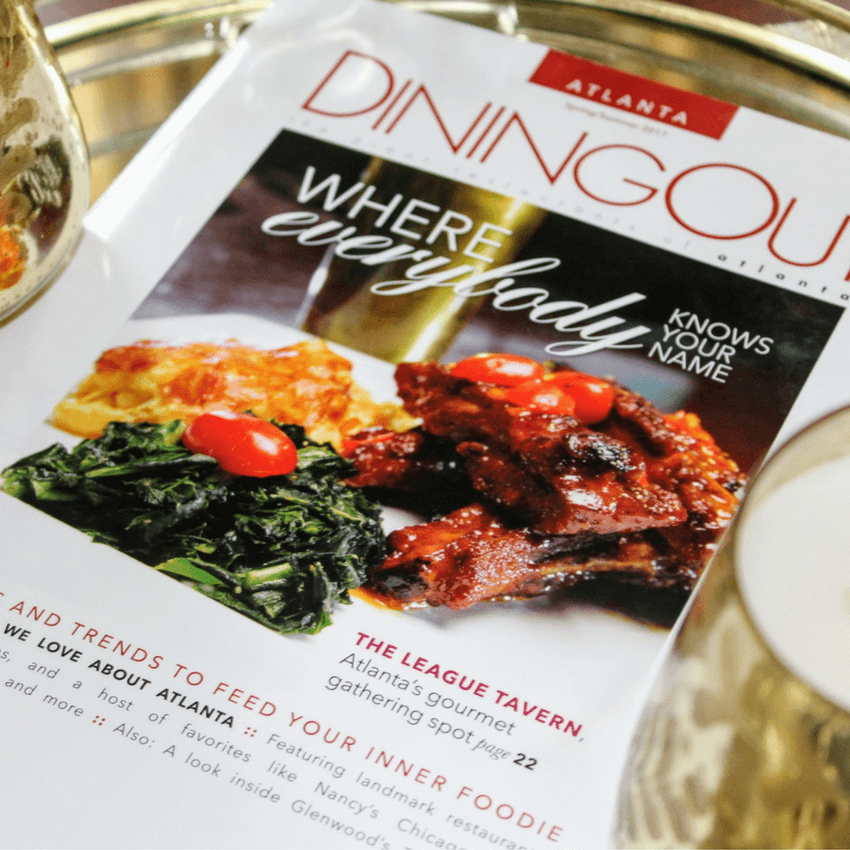 Best Atlanta restaurants are not only central intown and contrary to popular belief it's not all about the Southern cuisine y'all! The best Atlanta restaurants are cozy and quaint, romantic, lively, group-friendly, or even a food hall experience. You can experience it all with a friend or family member at a great reduction courtesy of DiningOut Atlanta through the 2016-2017 Atlanta DiningOut Passbook. The concept of the DiningOut Passbook is just like a passport. You visit a location and get a stamp. How's that for a souvenir? You can tour the best parts of the city and the outskirts and visit the best Atlanta restaurants thanks to the Atlanta DiningOut Passbook. The perk is you buy one entree, and get an entree free with this reasonably priced pocket book.
Best Atlanta Restaurants with
Dining Out Atlanta
The 2016-2017 Atlanta Dining Out Passbook is perfect for tourists and locals. Tourists have the perfect vacation meal planner in one lightweight, minute book and locals have the opportunity to take advantage of the restaurants we already love and frequent or learn of new eateries. The BOGO is extremely beneficial for us locals and tourists, and it lasts for an entire calendar year! I adore the pages of freebies because the restaurants are quality spots emerging and renown. Plus, it saves research time for my next feast. Nowadays, I rarely search pages of Google and Yelp for dinner date spots. I just open my passbook and pinpoint a hotspot that fits my mood. Done! Super convenient, right?
The passbook has 69 pages of top notch establishments, alphabetized with social media, address, and contact information for your benefit. The 2016-2017 Atlanta DiningOut Passbook is a true must-have and a loop to experience the Atlanta culture at a huge fraction of the normal cost. Lucky for you, this token can be purchased for merely $35.00 compared to the $99 normal price. Use my code STYLELIVINGPROpass2017 (case sensitive) to get $64.00 off! Steep discount for a discounted resource. Take advantage of this today. Offers valid until November 30, 2017. Get the passbook on the official website http://diningout.com/atlanta/product/atlanta-dining-passbook2016-2017/.  Proceeds from the sale of the DiningOut Passbook benefit The Giving Kitchen, an Atlanta non-profit offering emergency grants to restaurant workers living and working the the greater metro area. Find out more at thegivingkitchen.org.