If you've observed a cooking demonstration that depicted pasta making as quick and easy, that's because it is easy! With the help of an expert, you'll too become a pastaiolo (in one's own right). Why not visit your local eatery and discover your pasta making skills. 1910 Public House host a freshly made pasta Couples Pasta Making Class near Atlanta. The restaurant is located in Lilburn and holds the event in their quaint market taproom. As craft beer flows, you will relish the company of other couples in this adults-only class. Chef Garcia is a gracious host with a wealth of knowledge; she revealed to us the lay of the land in the Italiano manner. She did not fall short of mastery as she presented a moist pasta topped with an irreproachable red and white sauce. Here's her top chef pasta making recipe:
Couples Pasta Making Class Near Atlanta
Fresh Pasta (4 Servings)
Ingredients
3​1⁄2 cups of all-purpose flour
4 extra-large eggs
1 tablespoon of olive oil
Directions
? Mound the flour in the center of a cutting board. Make a well in the center of the flour.
? Add the eggs. Using a fork, beat together eggs and begin to incorporate the flour starting with the inner rim if the well.
? Continue the same process until the dough comes together. Knead the dough with both hands. If the dough is too sticky add more flour slowly.
? Wrap the dough in plastic wrap and set aside for 20 minutes.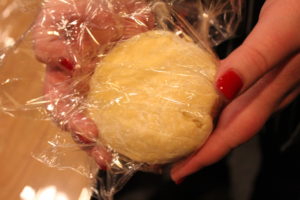 ? Roll and form as desired.
? Bring salted water to boil. Add pasta and cook for about 2 minutes.
? Serve with any sauce.
I may have provided you a cheat sheet, but you'll want to experience the class to get the best tips for a perfecto pasta. Folding and kneading require some talent; a chef will be able to show you the proper method to an outstanding pasta. Plus, Chef Garcia will demonstrate how to prepare a gratifying alfredo sauce, I'll save this recipe so you can witness and taste for yourself.  Visit Culinary Local to enroll for the upcoming Couples Pasta Making Class Near Atlanta. Tell Chef Garcia I sent you!
Photographs used in this publication are property of Style and Living Profile. Do not republish without permission and credit.

This work is licensed under a Creative Commons Attribution 4.0 International License.
Disclosure: I joined this experience as media. Complimentary experiences allow me to broaden my knowledge without exhausting my personal budget. That said, I do not give special consideration and I do not pay favors. My responsibility and obligation to submitted tastings is simply give an honest review and spread awareness. I am not for sale and am independent of industries related to my blog. Visit organized by CulinaryLocal, a marketplace for culinary events.