Are you indecisive as to whether you prefer a home with a sleek and clean interior design compared to stained and comforting? Depending on your geographic location, the decision may not be much of a challenge. If you are uncertain, this article will help you distinguish and decide between styles that are on opposite sides of the spectrum, and you'll soon have your unique home!
When comparing styles, it is imperative to consider your options for décor and most importantly, the finishes. When declaring the style of a home, the finishes flair should be appropriately specified. For instance, a Porcelain Gas Cook Stove suits a vintage home rather than a Black Stainless Steel Gourmet Gas Stove. Another example is tumbled stone fits well in a villa style home versus a glass tile. Usually, the architectural finishes and appliances determine the style of the home.
Today, the New Age style has several spin-offs; maybe your New Age design is directed towards an industrial look or a minimalist mod. In both settings, you can include designs that can reflect either look. The primary finishes and fixtures that create a distinction are flooring, cabinets, countertop, and lighting.
How to Distinguish a New Age Kitchen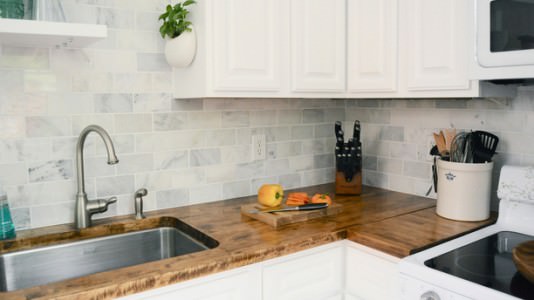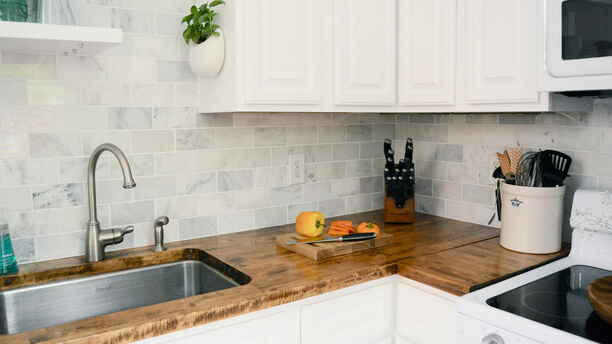 Countertop. In New Age homes, it is common to see an island placement in the kitchen. The island is now the icon of New Age kitchens being that it is centered and free-standing that makes it the focal point of the kitchen unlike in a traditional home. The island also allows you to arrange appliances in a centered area rather than along the walls. Arrangements placed along the wall has been found in homes for dozens of years. Scattered designs are within the New Age era.
The countertop portion of the island should be subtle yet striking. Light color, marble countertops are common in New Age homes; this is one of a variety of options for New Age style countertops. The most considered designs are butcher block, stainless steel, marble, and recently concrete. If you are interested in a modern, monochromatic color scheme or simply a versatile countertop I suggest the Carrara Marble countertop; the stone matches well with almost every color! You may find Carrara Marble in plenty of modern homes today.
Flooring. The floors and walls are paramount in improvement. This portion of the structure is the first interior impression when your home is entered. A New Age home should include large format tiles for the floor (with an exception for small bathrooms) usually 12″x24″ or 24″x24″ sometimes larger formats are seen! Long, straight lays for the wall create a minimalist and sleek look.
The most common wall tiles in New Age homes are 12″x24″ matte porcelain tiles; however, metallic with a porcelain base tiles are becoming more prominent. For either tile, rectified edges are preferred and recommended for a less noticeable grout joint.
The primary options for the backsplash are glass subway tile, glass and stone combos, or iridescent mosaic. Brick lays for the backsplash are becoming common in any style home and is recommended due to the unique appeal. Stay away from ceramic wall tiles with glaze and bevel; these are not considered New Age. Beveled and glazed wall tile is often described as "cookie cutter contemporary" because it's, usually, standard in a contractor build.
The Dynamic Duo
Cabinets and lighting. Cabinets and lighting normally is an easier selection process compared to other designs, though your options vary. To alleviate the hassle ask yourself would you prefer highlight painted with glaze cabinets, glass doors, thermofoil, or solid cabinets? Glass doors may appear the most modern of these options but solid, oil rub wood cabinets are also common in New Age. Of the two, solid wood is not in the lead due to regular maintenance required to keep the wood hydrated and free of residues. Thermofoil cabinets are also not a strong contender; it's known for its, usually, rigid, vinyl film that peels after excessive use. Personally, of all the options, I prefer the highlight painted with glaze cabinets considering the rich lacquer exhibited.
Lighting is brilliant nowadays! There's an option of recessed, mould, or pendant light. All are modern and are based on your preference, but the lighting must correspond to the ceiling structure. Perhaps you have recessed tray ceilings; it is possible that mould lighting will trim the structure dimming the room. Inverted tray ceilings may have recessed lighting rather than mould lighting due to the lower ceiling. If there's a combination structure of recessed and inverted tray ceilings then, you may see both recessed and pendant lighting.
A touch of metal is also often seen in New Age. In the industrial-like homes, suspended metal staircases are the main attraction. If you're opposed to metal, texture, spacious rooms, and monochromatic colors you'd probably love a craftsman look. The traditional homes are a rustic style and usually have the early 1900s, cabin grade impression. Visit soon for suggested rustic designs!

This work is licensed under a Creative Commons Attribution 4.0 International License.