Chateau M & City Winery presented a wine like none other to the city July 21st. Chateau M made its debut in the United States and it's only found here in Atlanta at City Winery. Chateau M is a hidden gem made in a secret castle on historic grounds, the wine received its name based on its origin. It's produced in a private residence called the Chateau de Montravel dated back centuries ago. The estate was ruined during The Hundred Years' War between England and France in the 16th Century but was rebuilt in the 18th Century and later became a winery in the 19th Century that eventually stopped producing in the 1970s. Phillippe Blandinieres and his wife acquired the beautiful Southwestern France property in year 2008 and began producing Chateau M wines in 2012. To date, Chateau M has meticulously made 3K bottles.
To properly experience the unique, rich Similacs & Merlots Chateau M offers you must:
1)       ?  See the color, the region makes red and white wines and the same is for Chateau M. There are golden tones and lovely deep reds wines.
2)       ?   Swirl, to oxygenate the wine. Gently swirl at the stem of the glass for just a few seconds to draw air into the wine and make it less acidic.
3)       ?   Smell, the many ingredients and the earth of France. The inland of Southwest France is a continental climate. You'll smell luscious grapes from gravel, clay, and limestone soils.
4)       ?   Sip, you'll taste from many hundreds years old vines. You'll taste gunpowder, pepper, jam, orchard fruit, plus a fresh, pleasant finish.
5)       ?   then Savor!
City Winery four course dinner
Chateau m Semillon 2013 paired w/ grilled peaches, marcona almonds, arugula, feta is a clear color, buttery tasting wine made from handpicked grapes (like all Chateau M wines) and barrel fermented for 11 months. It tasted amazing with the matured, milky feta and peppery, crispy arugula leaves. The overall tasting experience was very herbaceous, light, and refreshing. In my humble opinion this wine is best suited for summer.
Chateau m Semillon 2014 paired w/ meyer lemon shrimp, pecan grits, gremolata is a flinting wine that undeniably smells like gun powder. The minerality of the 2013 vs. 2014 is unknown. The taste is very peppery and spicy. It's a nice bitter yet smokey and nutty taste with the combination of pecans and wine. The lemon shrimp was a shortcoming due to the opposing robust flavors.
Chateau m Merlot 2014 paired w/ cream poached monkfish, foraged mushrooms, thyme crumb, basil oil was absolutely perfect! The cook did not treat merlot as cabernet which is a common mistake. The chef used the cream for fat and mushrooms for earthiness for this elegant, fruity wine. The wine is 100% merlot that was barreled for 15 months w/ a high-end alcohol percentage. It won a silver medal (second place) in all of France at The Vinalies Internationales, an international win competition, this is Chateau M's first wine ever made.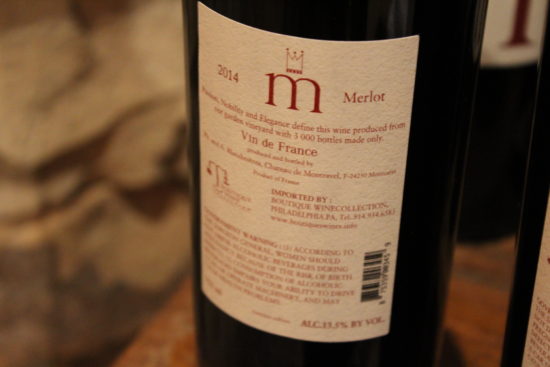 Chateau m Merlot 2015 paired w/ fancy flight of French cheeses was only barreled for 18 months to avoid an oaky taste. It's rich in flavor and color. It won a gold medal at Les Vinalies placing first in its category.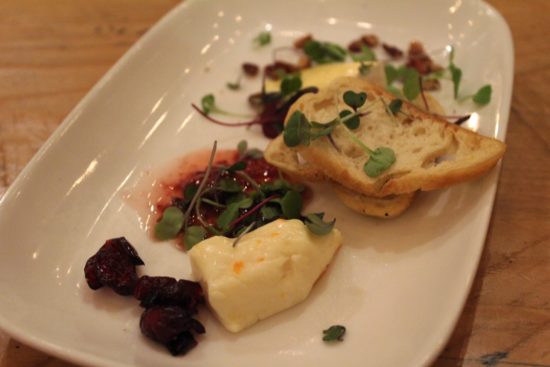 Special thanks to: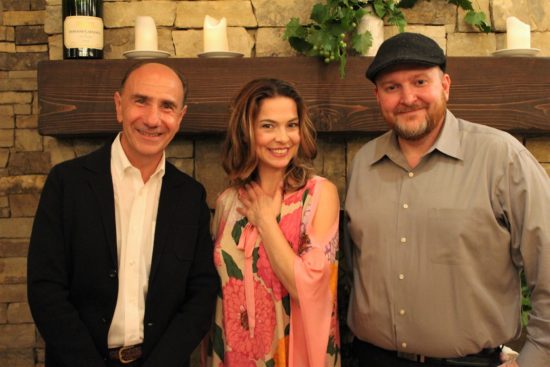 Phillippe Blandinieres – Chateau m owner (far left), Stephanie Northrup – Head of Wine Events & Education (middle), JR Smith  – Beverage Director (far right)
Source: https://www.chateau-m.com/
Photographs used in this publication are property of Style and Living Profile. Do not republish without permission and credit.

This work is licensed under a Creative Commons Attribution 4.0 International License.
Disclosure: I joined this experience as media. Complimentary experiences allow me to broaden my knowledge without exhausting my personal budget. That said, I do not give special consideration and I do not pay favors. My responsibility and obligation to submitted tastings is simply give an honest review and spread awareness. I am not for sale and am independent of industries related to my blog. Visit organized by CulinaryLocal, a marketplace for culinary events.