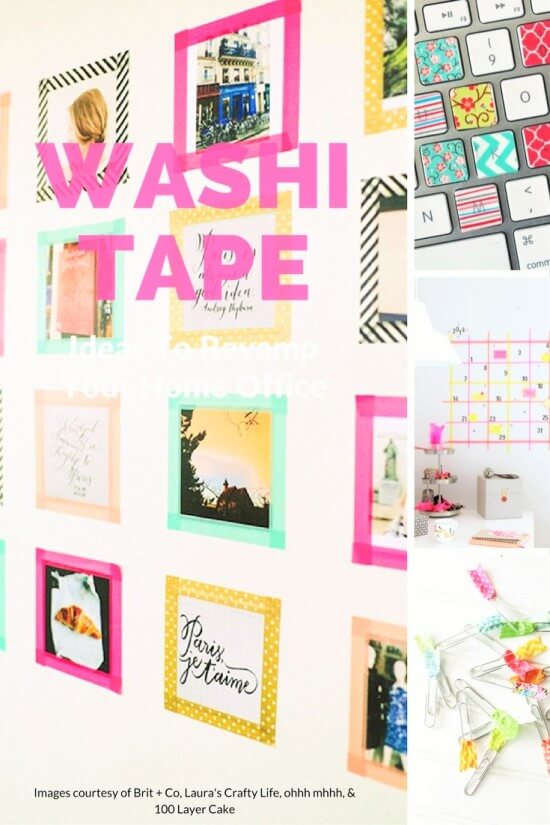 I love how inexpensive and easy washi tape ideas are to utilize in the home. These washi tape ideas to revamp your home office are ideal for any budget.  With a few dollars and a few minutes of your time, you can easily give your home office a great upgrade. Get an easy, beautiful, and fun look (on a $20 budget) with these washi tape ideas.
Washi Tape Ideas To Revamp Your Home Office
Use washi tape to color code filing systems. Requires Coffee shows us what we can accomplish with a various rolls of washi tape and plain cabinet drawers.
Update old binders with washi tape for easy filing. Bring your drab or unused binder to life!
Wrap desk organizers in washi tape to update and bring together your office look. You can recreate the look of your desk in 10 minutes. Wrap your desk cups or the outside of a desk tray with several rows of washi tape.
Wrap picture frames, mirrors and wall hangings in coordinating washi tape. 
As you can see, there are tons of great washi tape ideas out there to totally revamp your home office or any space!  For just a few dollars and a little time you can add washi tape to anything from the pencil holder on your desk to the filing cabinet filing system.  Not only can you bring a fun and bright new look to your office, you can use some of these washi tape ideas to help keep you organized as well.
Feature image photographs courtesy of OHH MHH, 100 Layer Cake, Laura's Crafty Life, & Brit + Co