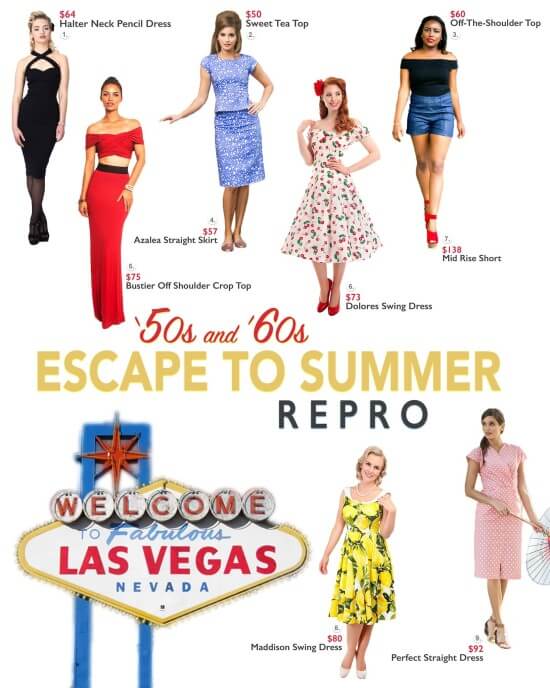 It's the last days of Summer and I'm digging a classic styles tribute. When you think classic styles don't envision bobby socks, saddle shoes, and poodle skirts (although I prize this look). You should imagine Jackie Kennedy Onassis's casual look strolling through her beloved rose garden (because Jackie's casual look is today's "Oh girl! Where are you going?"). I have a traditional root, and the Marilyn Monroe classic style and Chanel suit is my vintage vogue, but that's much too formal now. If you're itching to channel your inner bombshell with vintage inspired styles such as the '50s belted, petticoat swing dress or '60s Las Vegas suit and the '50s everyday trapeze dress, I have the solution. I've gathered a few vintage pieces that will put your busted knee, mom jeans to shame (eat your heart out the '90s). You can get the classic styles with a modern twist and slay! Sarong dress, halter neck, need I say more? Gals grab your red lipstick, bolero, and pointy toe heels; it's time to run the show!
Original Classic Styles
1.  Black Roxy Pencil Dress (similar style)
3. Off-the-shoulder top or this or that
6. Cherry Swing Dress in Pink (similar)
9. Perfect Peach (Polka Dot) Straight Dress
Get 15% off Kate Spade w/ email signup
Earn apple reward when shopping at Shabby Apple
Stop searching the web for active coupons and Join Honey @ joinhoney.com/ref/eazgcd.
Get $ when you shop @ HoneyGold stores.