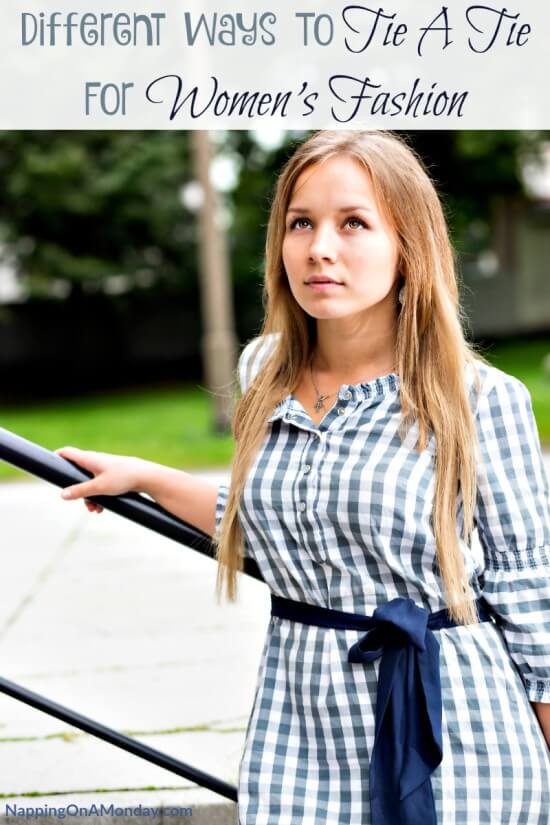 There are tons of different ways to tie a tie for women's fashion that range from elegant to unique and modern. A tie has traditionally been an accessory men have used, but from time to time they make a transition into women's fashion and are always a hot topic when they do. As a woman who enjoys wearing new and different trends, ties have become a fun accessory that go past the traditional and into beautiful accessories that can bring together an outfit easily.
Different Ways To Tie A Tie For Women's Fashion
Use as a belt. One of my favorite ways to tie a tie for women's fashion is to actually transform a tie into a belt. This usually works best for sheath dresses that you might normally wear a thin belt with. Instead of a belt, grab a solid or vibrantly colored tie and tie loosely around your hips. You can also tie leaving the thinner length around your waist and use the thicker length to create a bow at the side.
Wear as a headband. Ties come in so many beautiful colors and designs. They are so easy to weave into braids, wrap around buns or use as a simple and impromptu headband. Use similar to the way you would use other head coverings or scarves, taking into account that they may be thinner and require more wrapping to cover your hair. Pin with bobby pins or barrettes to hold into place when wrapping, or tie under your hair when used as a headband.
Wear traditionally. There is nothing more powerful than a woman in a classic business suit with a matching tie. It's not about looking masculine, but about looking pulled together. There are many instances where the traditional ways to tie a tie work beautifully under a sweater, or vest that goes with a women's fitted suit. Bring a pop of color to the outfit by using a colorful or ornate design on the tie you choose.
Tie loosely or with multiple knots. One beautiful way to wear a tie loosely with a collared shirt is to tie it with multiple knots. It creates a somewhat braided look that transforms it from a classic tie into a beautiful accessory. You can tie the same knots multiple times, or mix up various knots to create a unique look. Ties.com has an extensive list of various ways to tie a tie that are easy to follow and can be perfect for practice with your tie.
Wearing a beautiful tie is a great way to branch out in your own unique fashion world. Ties are not just masculine. They can be a beautiful feminine accessory that bring focus to your face, new hairstyle or your slim waistline. Knowing some fun and fashion forward ways to tie a tie that will accentuate your natural beauty can help you to easily build new looks into your wardrobe. While new ties can be a bit pricey at times, you can shop for ties at discount stores, online or even in thrift shops at low prices that will build great looks into your wardrobe on a budget.