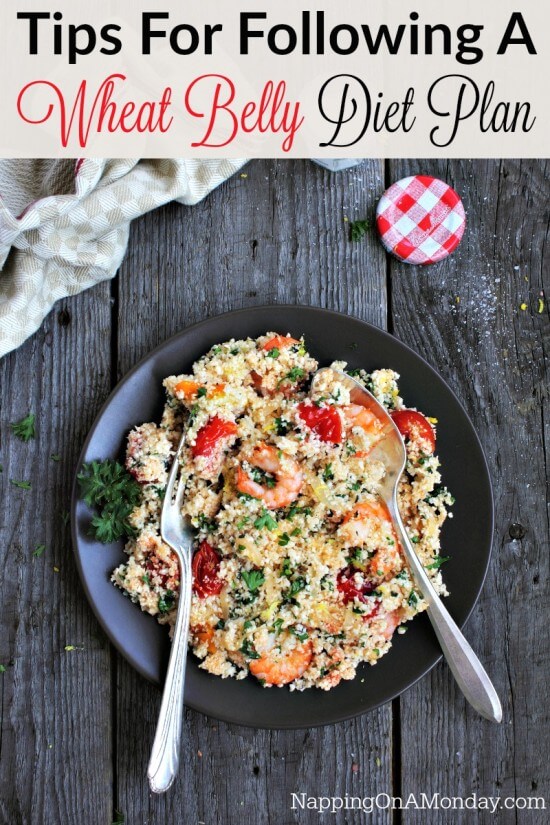 The wheat belly diet plan is a highly popular method of not only losing weight but improving your overall health.  While not everyone is sensitive to wheat, many individuals are on various levels.  Whether you have diagnosed celiac disease, or simply a minor sensitivity that causes discomfort on occasion, removing wheat from your diet can make a drastic difference in your health.  These tips for following a wheat belly diet are sure to make that transition easier for anyone.
Tips For Following A Wheat Belly Diet Plan
We've shared in the past about our personal experience with the wheat belly diet plan, but wanted to give some more simple advice to those who are newcomers to this plan.  Improving your health by removing wheat isn't as difficult as you may fear.  The right tools and tricks can make this a simple process anyone can do.
Invest in the right instructions.  We recommend the Wheat Belly book by Dr. William Davis.  It has all of the information you need to understand what wheat belly is, as well as what kind of dietary changes you will need to make.  It's available on Amazon, as well as many other book retailers.  You may also look through a few cookbooks on real foods (unprocessed), as well as gluten-free foods since most of these will be wheat belly diet compliant.
Remove offending foods from your pantry.  To be successful with the wheat belly diet plan, you have to first remove the problem foods from your life.  For many, it is difficult to avoid eating non-diet foods when they are on hand and easy to access.  If you can remove them completely from your pantry, do so.  Donate to a local food pantry, or to friends and neighbors who can use the foods you will no longer be eating.  If you have a family that will not be joining you on the wheat belly diet plan, you can designate an area of your pantry to contain foods that are approved.
Experiment with new recipes.  To avoid having that dreaded food burnout that often comes with new diets, experiment with new recipes.  Remember, however, that a gluten or wheat free diet is not the same as a paleo diet.  While many try to make these two interchangeable, they are not.  Be watchful of ingredients in all recipes, and when in doubt search to verify if it is safe for the wheat belly diet.
Make your food from scratch.  Instead of spending a ton of money buying ready-made gluten-free wheat belly diet plan approved foods, learn to make them for yourself. Cooking from scratch will help you to understand what foods are not okay to have, and will help you to stay in budget.  Little to no processing is always best when trying to improve your health.
Don't deny yourself the good foods you love.  Since so many things are eliminated from your pantry when you begin the wheat belly diet plan, you will want to cling to the foods you love that are okay to have.  This could be your morning coffee with a bit of liquid stevia and coconut milk, or it might be that handful of roasted almonds you enjoy as a snack.  As long as you are not over indulging, don't deny yourself the simple food pleasures you still enjoy.  Spend a little more on fresh fruits, produce and quality antibiotic free meats to give yourself a solution to the most prominent cravings.
These are simple tips for following a wheat belly diet plan, but they are incredibly useful.   The most basic steps are often what make the largest impact on your health.  Be consistent with your diet plan, and see your health improve drastically in a short amount of time.