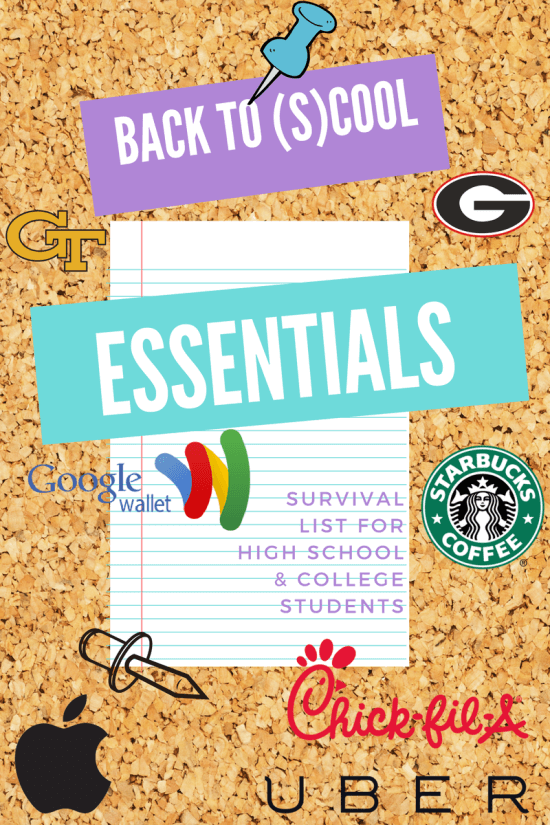 It's every young adult's most anticipated time of year. It's Back to School season and this year's Back to School Essentials are due. Parents if you're reading this and you've yet to get the memo, the campus lifestyle has changed drastically! Sure, you know about the books and technology, countertop electrics, window fashions, bedding, floor accessories, and communal bath necessities but what about outside the dorm? No one prepared me for the survival outside my four walls. I was lost! The average student will spend many hours per week away in libraries, cafes, random nooks, and exploring. The list I have compiled are unconventional back to school essentials for safety, convenience, and comfort. Here are a few tips and essentials:
Back to School Essentials & Tips
Food & Dining "foooood" (in my jock voice). Load those food gift cards! Many places give student discounts including popular and affordable restaurants and grocery stores.  If the student possess a valid university ID, places such as Subway (10% off), Burger King (10% off), Chic-fila-A (free drink), Firehouse Subs (10% off), Dairy Queen (meal deals available), Chipotle (free drink), and Waffle House (10% discount) will discount the meal. Oh, and don't forget… Usually, you can fill out the surveys on the restaurant receipts and receive a free food item such as a sandwich or cookie. Kroger offers 5% off groceries and with the Kroger Plus Shopper's Card, students can earn points to redeem on fuel. You can receive 10 cents off per gallon or more. Save the Kroger receipts are two reasons, (1) the coupons on the back (2) complete the survey to receive more fuel points.
Apple & iTunes Apple offers education pricing for students, with up to $200 off a new Mac. Did you know you can receive other Apple discounts via UNiDAYS too? I recommend a MacBook since viruses are incredibly rare on OS X. Plus, portability is phenomenal! I toted a heavy bag primarily because of my first huge laptop. Lastly, the MacBook battery life is light-years better than competitors. Also, I suggest downloading iTunes and creating a good and long playlist for study nights and public transit rides. It's a quick way to get through homework and commutes.
FedEx If you visit a FedEx Office (formerly Kinkos) expect to receive 30% off documents! Whoa! This discount would've been very useful for me back in the day. Shipping is too discounted.
Uber Everywhere Students with cars must register the vehicle and receive a parking permit and it may cost! Or there maybe a waiting list! Students should Uber everywhere  to avoid vehicle maintenance, fuel, metered parking, and insurance payments. The combination of public transportation and Uber tremendously cuts monthly expenses. Metro Atlanta's transit, Marta, offers the University Pass (a monthly student fare card).
Starbucks is a piece of the student starter pack and espresso from time to time will surely give you the energy for power hours. Starbucks offers Starbucks Rewards and it's valid at the official store and places such as Teavana.
School Spirit Wear & athleisure wear is way common (and comfy) and you can get the goods at your school store and for the ladies PINK. Bonus girlies, Juicy Couture track is 15% for students!
Health, Wellness, Cosmetics, & Household stuff can be found in one place and it's Pharmapacks! Receive free shipping over $49 and when you shop at Pharmapacks.com, you earn cash back for every purchase you make in the form of Pharmapacks Rewards Points. Receive 20% off your daily needs at Pharmapacks thru UNiDAYS.
Google Wallet the fast, easy, and free way to send money to friends and family.
Apple Pay students are safe with this debit/credit card app. Students can worry-free about losing their wallets or leaving a card behind. Apple Pay is a mobile payment and digital wallet service.
Trust me, these tips and back to school essentials will be lifesavers in many cases. The tips are good practices for high school Seniors too! Be well Class 2017!
Find out how to save $$$ on food and apparel here.