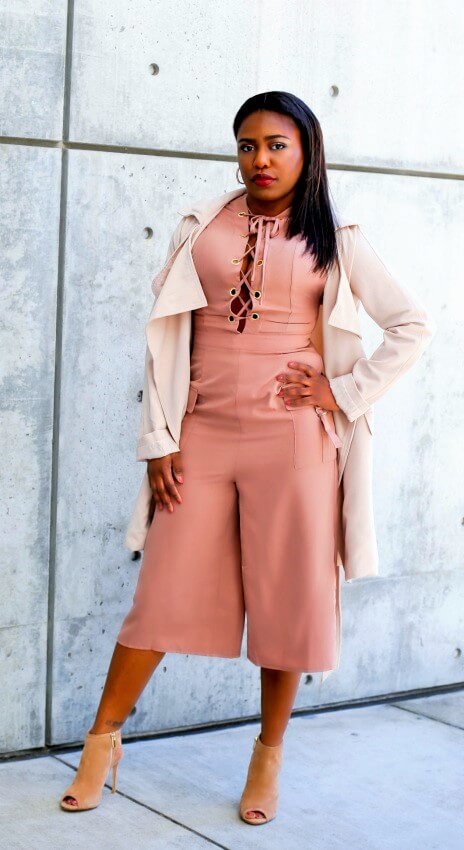 In case you haven't noticed, jumpsuit styles including rompers (also known as playsuits) are a hot item. It's a cyclical trend that I pray won't retire. What could be simpler than slipping on a single piece? Not a damn thing! No need to find a top and bottom that works together – it's all done for you! Despite their simplicity, you might hesitate to put on a jumpsuit, thinking it won't work for you. Purge that thought from your mind. Jumpsuits can work for almost anyone, short, tall, wide or slim. The key is to choose the right one. Here are some tips to rocking a jumpsuit this spring and summer.
5 Tips for Choosing Jumpsuit Styles that Flatters Your Figure
Choose a Solid Color Sure, you can find jumpsuit styles in wild prints and bright colors, but you'll get more mileage out of a solid one-piece in a classic color like black, cream or gray. Don't forget to wear all one color is slimming too (fashion tip of the day – you're welcome). When you choose a solid color in a dark shade you can wear it to a meeting at work or dress it up with the right jewelry and handbag for a night on the town or an evening social event. Might as well get as much mileage as you can out of that jumpsuit or romper. If you MUST have a printed jumpsuit, stick to one and wear it with simple accessories. The print will make a strong statement without overpowering it with jewelry.
Don't Make It Too Form Fitting A jumpsuit you have to squeeze into is no bueno. The name of the game is comfort and you have to be able to breathe when you're wearing jumpsuit styles. Keep the fit a little looser and cinch the look with an eye-catching belt that accentuates your waist. You can instantly change the look of a jumpsuit and take it from day to evening by adding a different belt. For breezy fall days, add a blazer or a long, casual cardigan to complete the look. Same jumpsuit – new outfit. When you add a blazer, you get the look of pants and a blouse and the ease of a jumpsuit. How's that for versatility?
Saks Fifth Avenue's Friends & Family sale! Get 30% off select clothing, shoes, and accessories through April 25 — no special code needed! Newsletter subscribers get 10% OFF!
Have Fun with the Shoes Jumpsuits come in all lengths from just below the knee to grazing the floor and in a variety of widths from tight legs to billowy cuffs. If you're tall and willowy, by all means, invest in a wide-legged jumpsuit, but if you're petite, stick with straighter legs, either full length or just above the ankle. Then play up your feet and legs with a pair of wedges or high-heeled sandals. If you're wearing a jumpsuit in a basic color like black, add color with the shoes and belt or slip on a fabulous pair of printed or metallic shoes.
Define the Waist Make a power statement with a jumpsuit by defining the waist. Doing so will give you that much-coveted hourglass shape. For casual wear, jumpsuits and rompers with a drawstring waist are convenient but save them for casual wear. Have fun changing up the belt for a different look every time you wear a jumpsuit.
Think about Fabric For a casual, daytime look, opt for light cotton or jersey jumpsuits and rompers. Turn up the glam for evening with jumpsuits in silk, satin or even one decorated with sequins.
Jumpsuits are versatile and comfortable. Make sure you have at least one in your wardrobe and wear it when you don't have time to put together an outfit. Most of all have fun when you wear a jumpsuit!