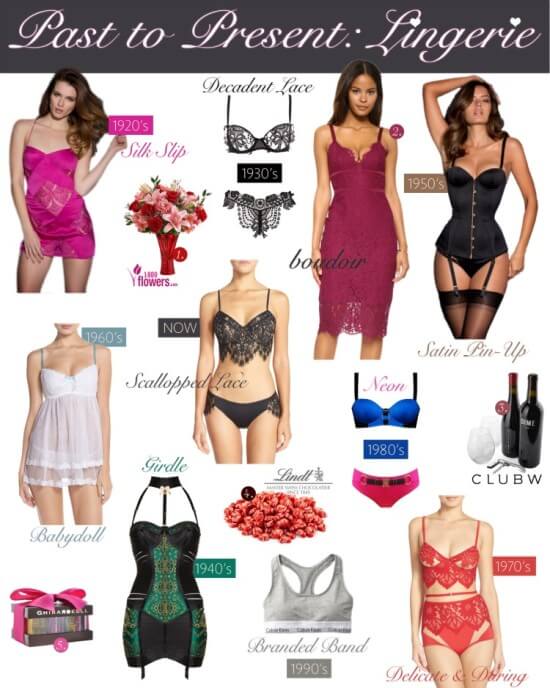 Valentine's Day ideas and speech are floating around! Do you feel the love in the air? If not, you're probably tense like me. I have no clue what to get my "bae" for Valentine's Day. To top it off, Valentine's Day is almost here! Shopping for men's gifts is difficult, but we should, at least, look good while doing so. If the boudoir dress isn't the treat he's looking for, try these Valentine's Day ideas. I compiled hot Valentine's Day ideas for nightfall. Here are a few Valentine's Day ideas for lingerie and setting a romantic scene. These then and now silhouettes will surely sap spice your sweetheart. Which style best fits you? I'm a 1950's type of gal!
Valentine's Day Ideas Shopping Guide
Flowers | Red roses and pink lilies
Pink Bow Chocolate Square Gift Box | Ghirardelli
1920's: Agent Provocateur | Emie Short Slip  < this saucy number has a matching kimono
1930's: Full Disclosure By Belle Et Bonbon | bra | panties < on sale, yay!
1940's: Full Disclosure By Bordelle
1950's: Agent Provocateur | Mercy Corset Satin Black
1960's: Nordstrom By Black Bow | Mayra Babydoll
1970's: Nordstrom | Ruby | bra | panties
1980's: Full Disclosure By Bordelle | bra | panties
1990's: Nordstrom | Calvin Klein 
NOW: Nordstrom | Giselle |  bra | panties