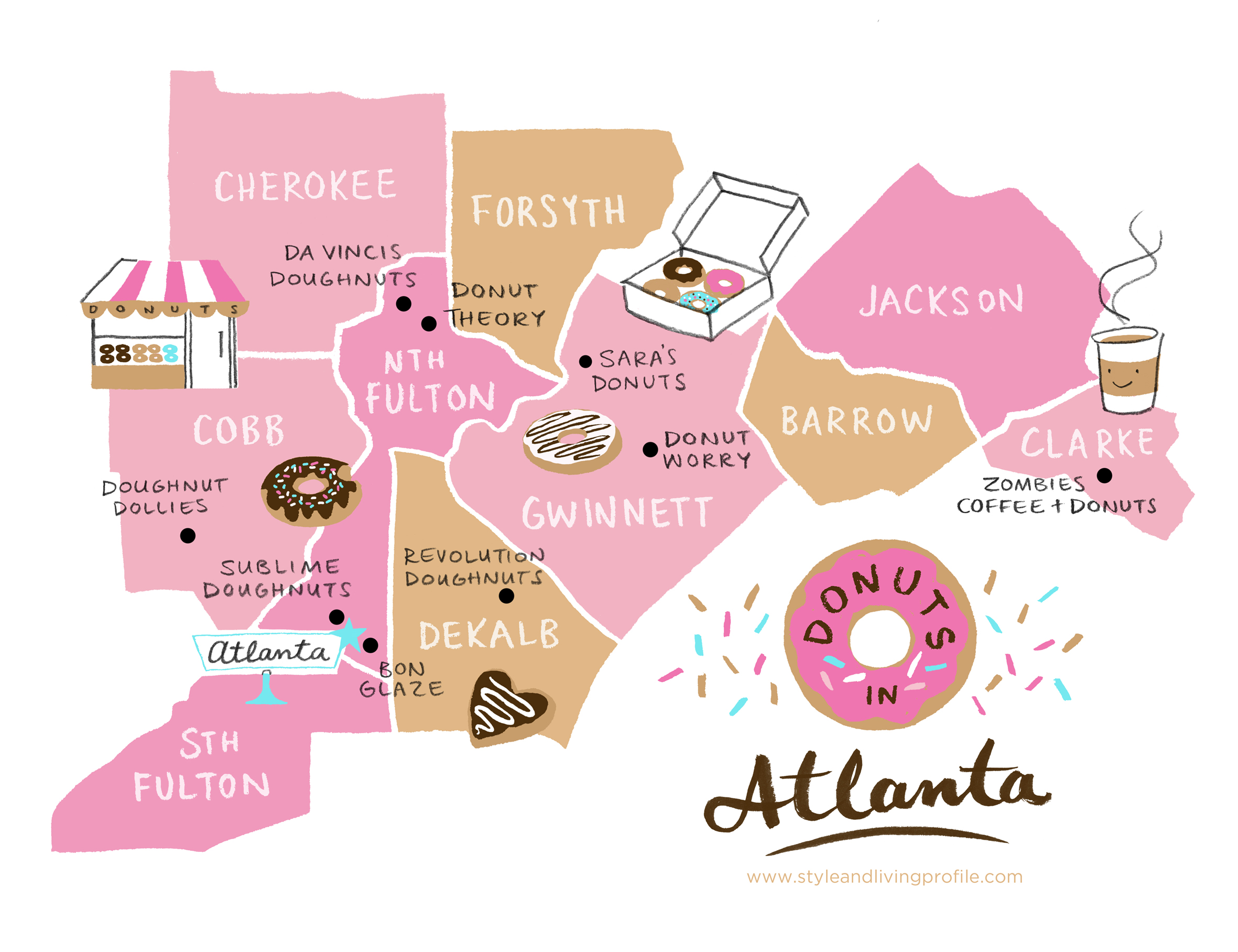 Donuts are a fine, toothsome dessert made with fondness and fun. The best donut shops around the city are known for it's tasty, colorful treats. Check out the best donuts around Atlanta.
The Best Donuts around Atlanta
? Doughnut Dollies: Lofty local bakery employing unexpected flavors in creative donuts made daily from scratch.
? Sublime Doughnuts: Quaint shop doing donuts in a variety of adventurous flavors like maple-bacon-cheddar & red velvet.
?  Bon Glaze: Bon Glaze hand makes their doughnuts from scratch every morning including the gourmet fillings and glazes such as the bacon butterscotch doughnut, blueberry sour cream, and lemon meringue pie. The breakfast sandwiches are popular; it's served on a sliced doughnut.
? Da Vinci's Donuts: These"cake-style" donuts are unlike any other. They are extremely light and tender with a slightly crunchy exterior. These donuts are so fresh, and you can see them being made.
? Donut Theory: Donut Theory specializes in gourmet, handcrafted donuts made from scratch. All of our jams, pastry creams, and glazes are made fresh in house and offers a wide selection of donuts from traditional fare to crullers, fritters and baked donuts.
? Sara's Donuts: This shop offers a variety of handmade donuts, plus coffee & light breakfast fare.
?  Revolution Doughnuts: Revolution Doughnuts is poised to revitalize the American doughnut, to help restore it to its former glory as a simple, tasty, hand-crafted treat. The best part of Revolution Doughnuts is a spiffy shop turning out donuts in creative flavors like vanilla bean, carrot cake & caramel-bacon.
? Donut Worry: At Donut Worry, donuts are made fresh daily. Eat some sugary treats, sip some freshly brewed coffee and relax with a book or your friends!
?  Zombies Coffee & Donuts: Contemporary bakery-cafe serving donuts with various glazes & toppings, plus coffee drinks & tea.