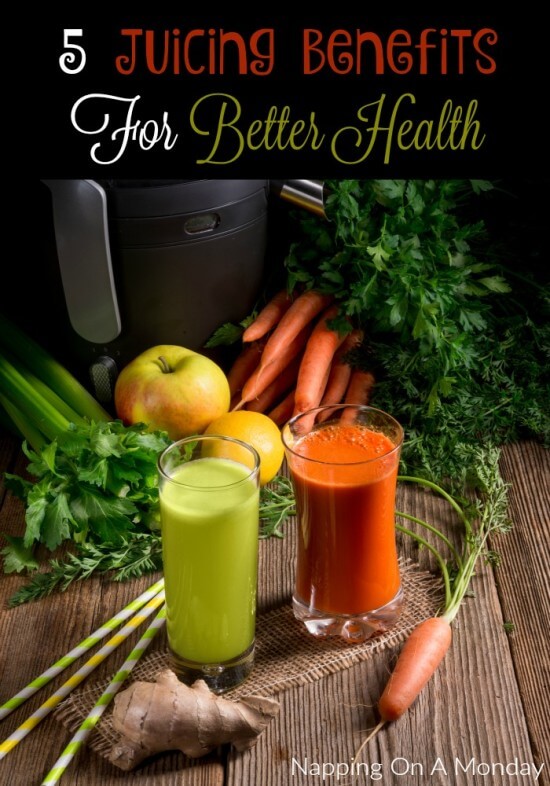 I love these 5 juicing benefits for better health!  Juicing is all the rage these days, and these totally show me why.  Getting healthier in a quick and easy way?  Who wouldn't love that?!  Juicing is the ideal simple way to start focusing on better health without having to make huge changes in your daily life.  If you are dubious about all the buzz around juicing, hopefully, these great benefits will help you to jump on the juicing bandwagon!
---

5 Juicing Benefits For Better Health
Nutrient-dense.  For those who struggle to simply eat vegetables with meals, juicing provides an excellent way to get those same vegetables into your diet while mixing with sweeter fruits like strawberries, apples, and pineapples.  Juicing adds tons of extra vitamins into your daily life, which can build your immune system as well as boost things like brain health, vision and more.
Increases energy.  When your body is getting all of the much-needed nutrients for better health that juicing brings, you'll find yourself with much more energy. In fact, for many this is one of the biggest and best juicing benefits.  Starting your day with a glass of nutrient-dense juice is a great way to give you the energy you need to keep going all day long.
Makes eating vegetables easy.  I mentioned this as a juicing benefit already, but the truth is for better health you really need to have more fruits and vegetables in your diet and less meat, processed foods, sugar and carbohydrates.  Juicing will help many to eat things like kale, broccoli, cabbage and even spinach easily without the texture or flavor issues they typically have.  For better health, juicing daily and adding nutrient-dense vegetables in with your favorite fruits is a great choice.
Weight Loss.  A great benefit of juicing is weight loss.  While it is often recommended to do a juice cleanse for fast weight loss, that should only be done under medical supervision. However, when you are drinking a glass of juice for breakfast or a snack each day, you are packing in tons of great vitamins without a lot of refined sugars, fats or processed foods to add fat to your system.  This is easily a way to lose weight in a healthy way.
Reduce risk of cancer.  This claim may seem a bit over the top, but one of the best and biggest juicing benefits is that you are easily reducing your risk of cancer.  How? Better health and a diet full of antioxidant-rich superfoods that are often found in juices are a great way to reduce your risk of cancer.  It's not that the juice has some super hidden healing power.  It is that you are adding better health to your diet by juicing healthier foods and filling your body with the nutrients it needs to fuel itself for a healthier life.
If you are looking for better health, then look no further than the juicing benefits we have shared here.  You can easily improve your health, learn to enjoy favorite fruits and vegetables together and readily lose weight when you include juicing in your daily routine.