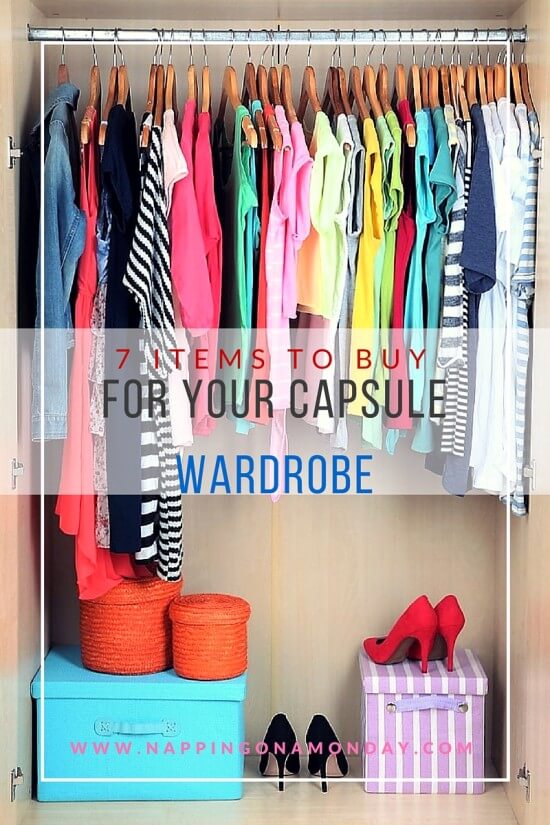 The term capsule wardrobe is used regularly in the fashion world, and it is indeed a wonderful way to have a minimalist wardrobe while looking amazing every day.  A capsule wardrobe is simply a method of making sure all of your clothing mixes and matches easily to create multiple outfits and styles without buying tons of pieces.  This typically includes classic base colors like black, navy, khaki or white, but can also include great bold pieces that match your personal style.  Check out our top items to buy for your capsule wardrobe!
7 Things To Buy For Your Capsule Wardrobe
Little Black Dress.  Every capsule wardrobe begins with the little black dress.  I recommend a sleeveless sheath style since it is most versatile, but you can find any little black dress that flatters your figure.  Just make sure it allows for customization with a jacket, shawl cardigan, and of course, things like scarves or belts.
Cardigan, shawl, or blazer in a classic color that blends into wardrobe well. You might feel this article is unnecessary, but when you're faced with either a casual day or business event. One of these pieces will be essential. If you want to sport the cardigan, shawl, or blazer more often than the typical wear. Consider a sleeveless or stretch blazer and a lightweight cardigan or shawl. You'll thank me later.
Well-fitting dress pant in flattering length and cut. I have learned time after time, rushing to find dress pants the day before a big interview or meeting is no fun! Have you too experienced this moment? If not, it may come soon, and you should be prepared. Avoid the multiple store visits in one day and add this item to your closet today!
Classic colored skirt in flattering length and cut. This clothing item is very versatile and is a go-to for date night (pair it with a sexy blouse and create a sophisticated look), girl's night out (pair it with a flowy blouse and wedges and conquer the night), lazy Monday (tucked button down and flats will have you office appropriate and comfortable at the day job). Three outfits, day to night transitions, one skirt… Voilà!
Camisoles in a variety of colors.  This is more than one item for your capsule wardrobe, but it is still one type of piece.  I recommend some quality camisoles in classic colors like nude, black, white and gray as a base, but you'll also want pops of color like red, orange, teal or even pink to bring some fun to your wardrobe.
Classic black pumps.  Every wardrobe needs a pair of basic black heels to wear for special occasions.  While you may want to include some special heels for an event, the base of your wardrobe should include the classic black pump in a height and style that is classic, versatile and comfortable. If you have more than one pair, don't sweat it, it's normal! I have 3 pairs for the office, nightlife, and soiree!
Classic white button down shirt.  This is the base of many things from a weekend casual look to a polished work meeting look.