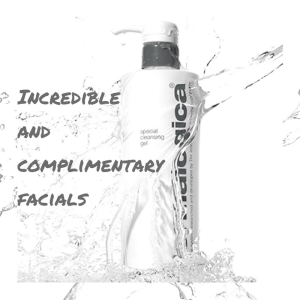 You read the heading right.  Great facials and they're complimentary! The treatments are mini facials. Despite the express service, you receive the complete steps in a full-service facial in a fraction of the time. Over the years, I've visited beauty counters and retail stores to receive impeccable skin treatment for free! Often, I discover more about my skin. The beautifiers listed are pivotal beauty care labels. Visit the beauty counters or freestanding shops for a signature and satisfying complimentary facial. Afterward, it's not uncommon to receive a sample unit tailored to your skin concerns.
Great Facials & Complimentary!
Aveda. Aveda offers great facials that are tailored to skin concerns. The facials are sensational due to many plant-based ingredients, you receive an aromatherapy. The replenishing facial is estimated 15-30 minutes.
Kiehl's. My personal favorite skincare line! Locals, I recommend the Lenox Square Mall location. The staff (ask for Christopher) has one of the best training received in the aesthetics industry. You're able to try products you prefer or products the advisor suggests. The bonus is these guys use a sonic system to purify the skin.
Sephora. The best thing ever happened last week at Sephora. Selected locations are offering a Hydrafacial treatment called Fresh Start Facial Powered by Perk™, Atlanta's very own Lenox Square is participating. The Hydrafacial gives immediate results! It's unimaginable, but it's true. With the purchase of $75 in Sephora's skincare, you can receive this typically twice expensive facial. If you're reserving money, try the entirely complimentary service. It is a great facial without the Hydrafacial plumping benefits. A bonus is this facial has a steamer included, and you can sit for additional time if you request. The options are mask & moisturize, peel & perfect, face & lip, and face & eye.
Dermalogica. I adore many Dermalogica products. When I moved to the city, my pores suffered and acne surfaced. I was directed to the brand. It helped a lot! However, if you have sensitive skin, be careful! Dermalogica is the real deal, pharmaceutical grade stuff. If you're uncertain, the experts there will offer a skin mapping consultation for free before you proceed with product use. Atlantic Station has a freestanding store, and the ladies are spectacular! The prestige brand hosts gatherings and awards regularly. Join the rewards program today.
Origins. Origins has a more relaxing process. You're placed on a stretcher; you receive a hand massage too.
Shiseido. Visit Macy's to discover the wonders this Japanese cosmetic line provides.
Von Maur. There's a private aesthetics room dedicated to 15-minute complimentary facials. All you do is pick your products in at the skincare counter after a brief consultation and begin. The consultant may guide you through your selection. Still, you're free to try what you please.
If you're all about personal care and saving, these great facials (and don't forget complimentary) are the best route. You're beautified, rejuvenated, and budget protected since it's free!
Coupon for $10 off orders $50 @ http://banishacnescars.refr.cc/5FLXNTP

This work is licensed under a Creative Commons Attribution 4.0 International License.